Are you wondering how to get PR in Canada? Canada is known for its strong economy, beautiful landscapes, and multicultural society, making it an attractive destination for immigrants. In this article, we will explore the process of obtaining Canadian PR, with a focus on the various programs available, eligibility requirements, and application processes.
Why Choose Canada for Permanent Residency?
Canada is a top choice for immigrants due to its high quality of life, political stability, and strong social support systems. As a permanent resident, you will have access to the same rights and benefits as Canadian citizens, including healthcare, education, and social services. Furthermore, obtaining PR in Canada can be a stepping stone to becoming a Canadian citizen.
Before diving into the specifics of how to get PR in Canada, it's essential to understand the basics of the Canadian immigration process. Canada has various immigration programs, each with its own eligibility criteria and application process. These programs can be broadly categorized into three groups:
Economic immigration programs
Family sponsorship programs
Refugee and humanitarian programs
Economic Immigration Programs
One of the most popular ways on how to get PR in Canada is through economic immigration programs. These programs are designed to attract skilled workers, entrepreneurs, and investors who can contribute to Canada's economy. The primary economic immigration programs include:
Provincial Nominee Programs (PNPs)
Business Immigration Programs
Express Entry
Express Entry is an online system that manages applications for three federal economic immigration programs:
Federal Skilled Trades Program (FSTP)
Canadian Experience Class (CEC)
Applicants create an online profile, providing information about their skills, education, work experience, and language abilities. Candidates are then ranked using a Comprehensive Ranking System (CRS) and receive an Invitation to Apply (ITA) for PR during periodic draws.
Provincial Nominee Programs (PNPs)
PNPs are immigration programs managed by individual Canadian provinces and territories. Each province has its own unique set of requirements and application processes. Successful applicants receive a provincial nomination, which can be used to apply for PR through the Express Entry system or a separate paper-based application process.
Business Immigration Programs
These programs target entrepreneurs and investors who can contribute to Canada's economy by starting or investing in businesses. The main business immigration programs are:
Immigrant Investor Venture Capital (IIVC) Pilot Program
Family Sponsorship Programs
Canadian citizens and PR holders can sponsor their spouse, common-law partner, dependent children, parents, or grandparents for PR through family sponsorship programs. The key programs in this category are:
Spouse, Common-Law Partner and Conjugal Partner Sponsorship
Parent and Grandparent Sponsorship
Dependent Child Sponsorship
Refugee and Humanitarian Programs
Canada also offers protection to refugees and individuals in need of humanitarian assistance. These programs are primarily for those who have been forced to flee their home country due to persecution, violence, or other threats to their safety.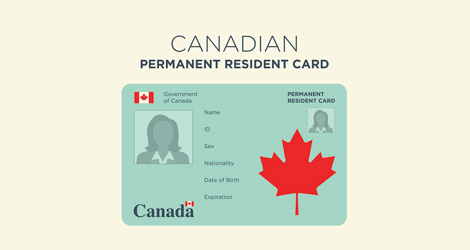 Preparing Your PR Application
Once you have identified the right immigration program for your needs, it's time to prepare your application. This process typically involves gathering documentation, such as educational credentials, work experience, language test results, and police certificates, and submitting an application online or by mail.
Waiting for a Decision
After submitting your application, you will need to wait for a decision from Immigration, Refugees and Citizenship Canada (IRCC). Processing times can vary depending on the program and the complexity of your application. It's essential to keep your contact information up-to-date and respond promptly to any requests for additional information or documentation from IRCC.
Completing the PR Process
Once your application is approved, you will receive a Confirmation of Permanent Residence (COPR) and a permanent resident visa (if applicable). Before your COPR and visa expire, you must enter Canada to officially become a permanent resident. Upon arrival, you will need to present your COPR and other required documents to a border services officer.
Tips for a Successful PR Application
To maximize your chances of obtaining PR in Canada, consider the following tips on how to get PR in Canada:
Research thoroughly: Understand the eligibility requirements and application process for the program you're interested in. This will help ensure your application is complete and accurate.
Prepare your documents carefully: Ensure all documents are in the correct format and translated into English or French, if necessary.
Take language tests seriously: Proficiency in English or French is crucial for most immigration programs. Invest time in preparing for language tests, as higher scores can improve your chances of success.
Be honest and transparent: Provide accurate and complete information in your application, as misrepresentation can result in rejection or even a ban from applying for PR in the future.
Seek professional advice: If you're unsure about your eligibility or the application process, consider consulting with a registered immigration consultant or lawyer.
By understanding the various immigration programs on how to get PR in Canada, eligibility requirements, and application processes, you can increase your chances of success. With careful research, preparation, and patience, you will be well on your way to calling Canada your new home.